The Business Value Dell APEX Creates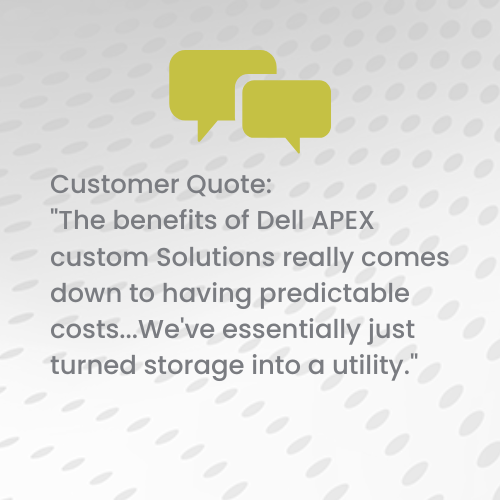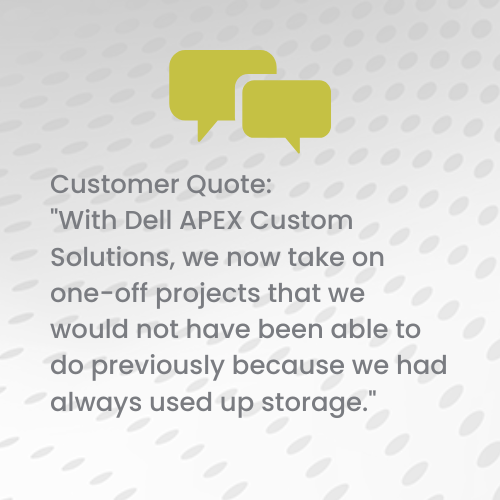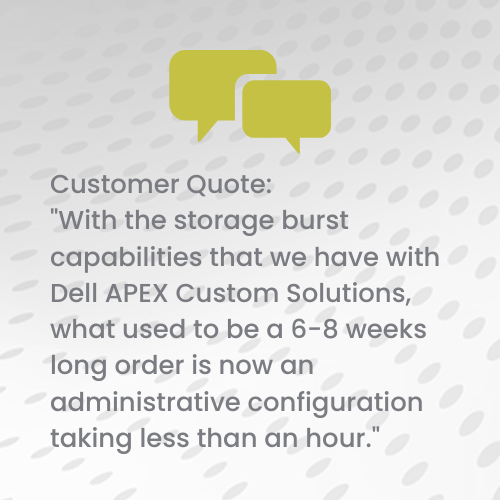 Dell APEX Custom Solutions:
A Study of Usage-Based Consumption Models for Storage
IDC interviewed organizations using Dell APEX Custom Solutions, specifically APEX Flex on Demand and APEX Data Center Utility, to understand the solutions' impact on their costs, agility, and business results.
23% lower average
storage cost of operations per year
64% lower cost
of unplanned outages
92% faster time
to deploy new storage capacity
$26,400 gain in business operations per 100 users (as a result of increased revenue and user productivity)
HOW IT WORKS
Dell APEX Data Center Utility
Flex on Demand
Data Center Utility
Dell APEX Data Center Utility is highly customizable way to move part, or all, of your data center operations into a pay-per-use model.
Scope Product Utility Environment
In partnership with Dell Technologies we will work with you to define capacity requirements, growth expectations, SLAs, and reporting requirements.
Develop Rate Structure
After the required solutions have been identified, we will develop a rate structure with consistent pricing.
Monitor Usage
Automated tools record the actual consumption levels, and this data will b provided to you on a regular basis for you to review so you can optimize your deployed capacity.
Review
Once you have approved the usage data, we will provide an invoice reflecting actual usage each month.

Flex on Demand
With Dell APEX Flex on Demand, you can acquire the technology you need to support your changing business with payments that scale to match your actual usage.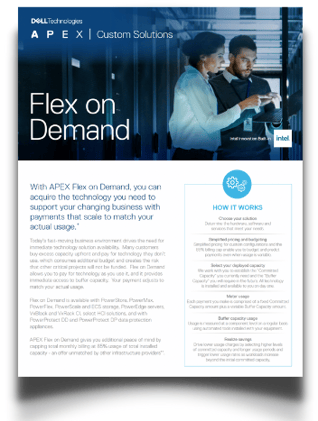 Choose Your Solution
Determine the hardware, software, and services that met your needs.

Meter Usage
Each payment you make is comprised of a fixed Committed Capacity amount plus a variable Buffer Capacity amount.
Realize Savings
Drive lower usage charges by selecting higher levels of committed capacity and longer usage periods and trigger lower usage rates as workloads increase beyond the initial committed capacity
Select Your Deployed Capacity
We work with you to establish the "Committed Capacity" you currently need and the "Buffer Capacity" you will require in the future. All technology is installed and available to you on day one.
Buffer Capacity Usage
Usage is measured at a component level on a regular basis using automated tools installed with your equipment.
Authorized DIR Contract Available