Protecting you from dangerous cyber threats with enterprise-level security, available for every budget.


SECURITY IS ONE OF THE GREATEST CONCERNS FACING

IT

DECISION MAKERS
We are seeing a significant increase in the number of phishing and malicious attacks. Mitigating these attacks requires more than your traditional anti-virus software. It is imperative that you have the systems, processes, platforms, and people in place to remain compliant and keep all of your data secure.
OTHER DELL SERVICES WE OFFER:
How do you know if you have the right solution in place?
As a Tatiumn Dell Partner Summus Industries has the resources to guide our customers through Dell's SafeGuard and Response portfolio. Summus Industries is here to help customers achieve their endpoint security objectives and get the most value from their VMware Carbon Black products.
Moreover, Summus Industries joined the Secureworks Global partner program to offer automated and intelligent cybersecurity solutions that secure progress with Managed Detection and Response (MDR).
Helping you prepare for the emerging cyber threats.
The Dell safeguard and response portfolio powered by VMware Carbon Black and Secureworks provides a comprehensive approach to endpoint threat management.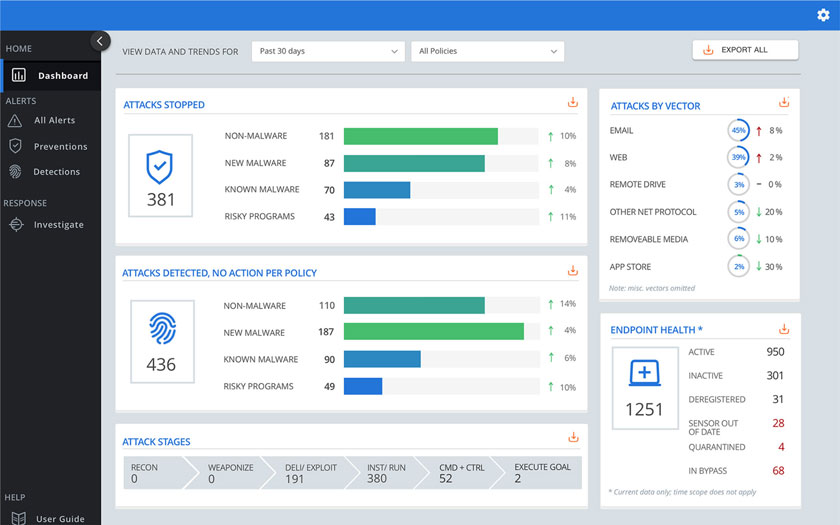 Vmware Carbon Black Endpoint Standard
Vmware Carbon Black Endpoint Standard + Secureworks Red Cloak Threat Detection & Response
Next Generation AntiVirus
Behavioral Endpoint Detection & Response
Threat Detection & Response

Trusted Devices
Industry-leading security, built-in as standard
Enterprise-grade Dell PCs protect data at all times, at rest, and in motion (even in the public cloud), with innovative data security solutions.


Secure commercial PCs, protected against physical and digital attacks.


Dell SafeID features a security chip that assures authentication integrity.


SafeBIOS delivers embedded BIOS-level safeguards, including Dell-unique off-host BIOS verification.


Support of security features across other Dell Technologies with Intel® vPro-based processors that are embedded with Intel Authenticate.
---
Trusted Infrastructure
Purpose-built, commercial-grade, highly scalable solutions.
Multilayer approach to security across the solutions offered by Dell Technologies, with servers, storage, and appliances, including VxRail HCI.2


Features servers equipped with end-to-end security, starting at the firmware and hardware levels, to provide the best protection for customers and their businesses.


All-inclusive storage solutions designed to store, manage, and protect data in each array – with built-in data protection, snapshots, and drive-level encryption.


Processing power from the latest generation of Intel® Xeon Scalable Processors.
---
Trusted Data Centers
A broad range of innovative data security and data protection solutions.
Gain peace of mind knowing corporate and customer data is fully protected.
Data Domain: #1 purpose-built backup appliance, designed for mid-market businesses and remote environments, and available with capacity points for any size workload.


Dell SafeData helps customers trust their data is secure wherever it goes.


Complete data protection management software and appliances with the PowerProtect portfolio.


Dell SafeGuard and Response solution prevents 99% of endpoint threats.
The Enterprise Management Associates recently released an industry report on the MDR market, and what organizations like yours seek from a MDR solution. Interesting findings include:
42% of large enterprises surveyed are looking to cut the cost of security operations.




79% of organizations without MDR are either currently evaluation or considering adopting

MDR

.

33% of large enterprises and 48% of small/midsized enterprises report their staffs are

overwhelmed by the number of security tools and layers to manage

.